The Gazebo team is happy to announce the 8th major release of Gazebo, code named Harmonic!

Harmonic is a long-term support release supported until September 2028.
If you would like to see Gazebo Harmonic in action, we demonstrated many new features at our monthly community meeting: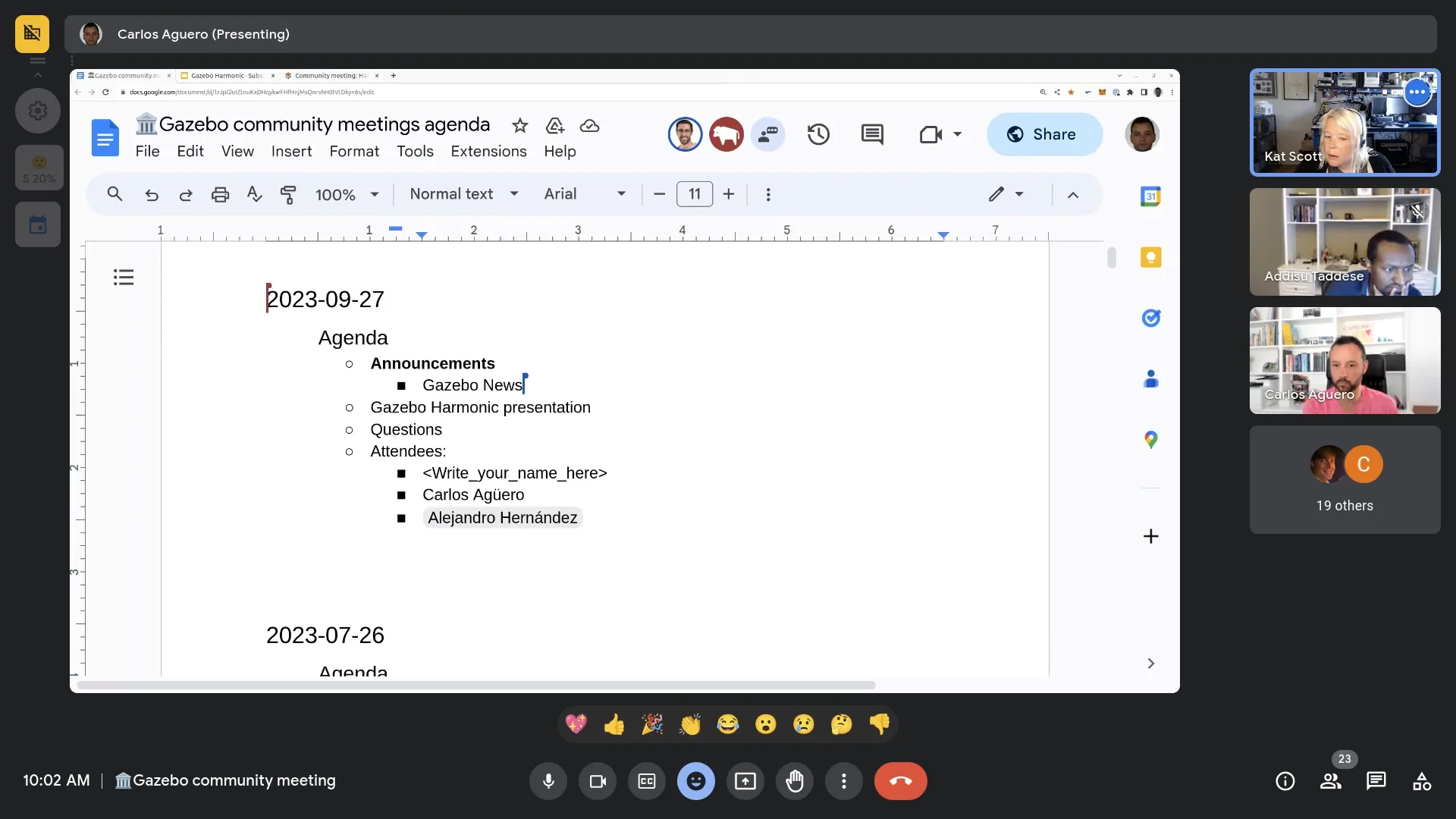 You can find the full list of new features in the gz-harmonic repo, but here's a brief summary:
As of the release date, the currently supported platforms are:
Ubuntu Jammy (22.04)
MacOS Monterey and Ventura
Windows 10 (partial support)
We'd like to thank all contributors to this release:
Full list of contributors

Aaron Chong
Addisu Z. Taddese
Aditya Pande
Alejandro Hernández Cordero
Alex
Anas Aamoum
Andrej Orsula
Angelo Elias Dal Zotto
Anton Bredenbeck
Arjo Chakravarty
AzulRadio
Ben Wolsieffer
Benjamin Perseghetti
Bi0T1N
Brian
Carlos Agüero
Cristóbal Arroyo
Crola1702
danilogsch
Dharini Dutia
El Jawad Alaa
Grey
Henrique Barros Oliveira
Ian Chen
Ivan Santiago Paunovic
Jasmeet Singh
Jenn Nguyen
Joan Aguilar Mayans
Jochen Sprickerhof
Jorge Perez
Jose Luis Rivero
jrutgeer
Julian Oes
Kenji Brameld
Konstantinos Chatzilygeroudis
Kvk Praneeth
Levi Armstrong
Liam Han
Louise Poubel
Luca Della Vedova
Mabel Zhang
Marco A. Gutiérrez
Marko Križmančić
Marq Rasmussen
Martin Pecka
Matias N. Goldberg
Matthew LeMay
methylDragon
Michael Carroll
Michel Hidalgo
mosfet80
Nate Koenig
Onur Berk Töre
quentingllmt
Rhys Mainwaring
RobbertProost
Robert Plante
Sanjuksha
shameekganguly
Silvio Traversaro
Steve Peters
talregev
Tejal Ashwini Barnwal
Valentina Vasco
Vít Ondruch
Will Stott
William Lew
Zaidhaan
We'd also like to give especial thanks to the community members who helped us review Harmonic tutorials during the Tutorial Party:
Allison Thackston
Andrej Orsula
Bi0T1N
JACOB JAMES K
Jayesh Chaudhary
jmackay2
Kartik Rana
Martin Pecka
Rhys Mainwaring
Suresh Venkatesan
Veronika Bojtar
Yuri Oliveira
If you would like to show your support for the project be sure to get your Harmonic swag! All proceeds go to support the project.
The next release, Gazebo Ionic, is scheduled to be released in September 2024. Keep an eye on the roadmap for what's coming up, and let us know what features you're interested in!
The Gazebo Dev Team